Central Library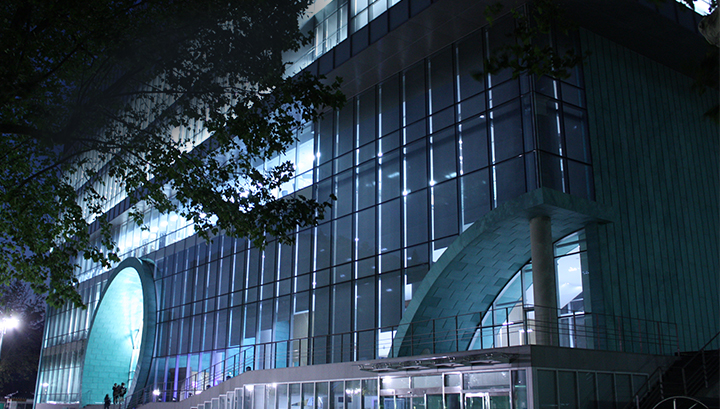 Wonkwang University Central Library which was opened on August 27, 2012 has 1.3 million book collections housed in the total floor area of 10.413 m2 of a 7-storey building with an underground floor, equipped with state-of-the-art digital information system. With a free electronic reading room, electronic information room, digital gallery, it was designed to be utilized as a meeting point for autonomous learning and discussion, collection and sharing of information and harmonious natural and cultural experience.
Where the future of Wonkwang is starting,

We introduce state-of-the-art Central Library.
Library focusing on user- tailored service

Fusion library with cultural space and resting area

Library that opens the ubiquitous era
1F

Reading Room 1/ Lobby

Equipped with the state-of-the art facilities such as free wireless/wired internet service and online seat query system.
Library Information System
Digital Gallery
Electronic newspapers/magazines
2F

Free Reading Room 2 / Complex cultural space

A space where users can share a variety of information and culture using a multimedia system in a maximum comfortable environment.
3F

Digital Information Center / Group Study Zone

A space for the complex utilization of digital information, where you can freely access the internet information search, video lectures, movies, DVD, satellite broadcasting, audio language learning by utilizing a variety of multimedia devices.
Group Study Zone
Disabled study room, PC search zone
Electronic newspapers / magazines
4F

Humanities and Arts ∙ Media

Reference materials of the published paperback books on the fields such as Philosophy (100), Religion (200), Art (600), Languages (700), literature (800), history (900) are available. Reference booklets can not be browed while being allowed only for reading and copying in the hall. The Won Buddhism Archives contains materials such as the published booklets, the study papers and the secluded writings and etc., which are related to Won Buddhism.
5F

Social Sciences ∙ Natural Sciences and Technology

Reference materials of the published booklets and the reference paperback books on general works (000), social sciences (300), natural sciences (400), science and technology (500) architecture (610) sectors are available. However, reference books can not be lent out but copied in the hall only.
6F~7F

Old documents archives, Preservation library 1, 2

The archive of old documents contains the secluded materials such as valuable old books, genealogical records and various old writings of our library. This material is only available inside room of the old documents archives. Preservation library keeps materials for which a certain period has passed after the publication or those used with a very low frequency, and operates disposal sales for these materials. They are available by applying at the lending desk on the seventh floor.
Preservation Library
Old documents Archives