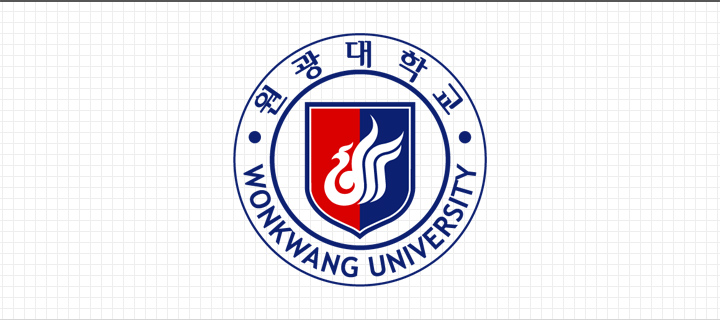 Features and meaning of Phoenix Design
Phoenix head and its chest line refer to the phoenix engraved on the incense burner of Baekje era, excavated from the Booyeo tomb and the curve of the tail was applied from the Koryo celadon.
Phoenix body and its tail represent the WKU shaping, the initial of Wonkwang University.
The circle surrounding the phoenix represents the source of the universe as well as the root of our hearts. This implies the endlessness, mentioned in oriental philosophy and the endlessness corresponds namely to the Taiji, the Great Ultimate in other words, which implies, with the colors of red and blue, the yin and yang of the sun, eventually meaning the dawn of the creation.
The bended circle in the chest is to symbolize the dynamism of the unitary circle feature and the Taiji, which can be interpreted as the cintamani, a magic pearl, symbolizing the harmony of the Phoenix.
Phoenix at a glance presents the gallant spirit while looking down on the whole world expressing a great ambition and dynamic youth, while the three tails depicting the dynamism and creativity refer to our educational goals of academic pursuit, cultivation of virtues and social services.
The appearance of the phoenix rising from the bud in the center is meant to succeed the lineage and tradition of the original logotype.
Symbol Mark

Signature System

Logotype